General Tso's Chicken (Crispy Chicken Without Deep-Frying)
An easy General Tso's chicken recipe that yields crispy chicken without deep-frying. It also uses much less sugar while maintaining a great bold taste. Once you've tried it, you'll skip takeout next time because it's so easy to make in your own kitchen. {Gluten-Free Adaptable}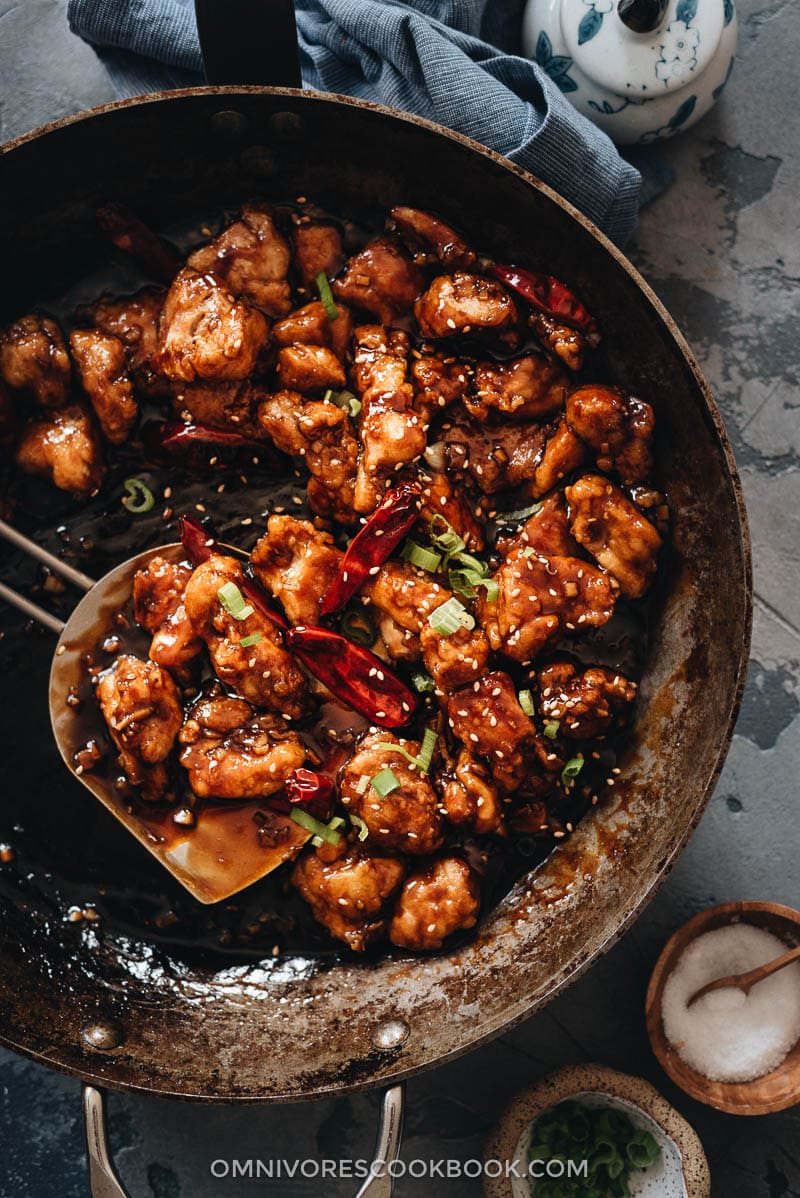 The first time I heard about General Tso's Chicken was right after I started blogging in 2013. I thought it was an American Chinese dish that was invented by the early immigrants. A few years later I watched In Search of General Tso. The story is more complicated – the signature Chinese dish reflects the journey of the spread of Chinese food in the US. And to be honest, it's quite amazing.
Here are some fun facts about General Tso's Chicken:
The dish doesn't exist in China.
General Tso was a real person in Chinese history but has nothing to do with this dish.
The dish was originally introduced to the US by a Chinese chef from Taiwan.
The techniques and flavors of the dish were inspired by those of Hunan cuisine.
I used to stay away from American Chinese food because it's not a part of the food culture I grew up with. But gradually I started to embrace it more after living in the US for a few years. After all, American Chinese food did help spread Chinese food culture in the US, which is awesome. Plus, the food tastes really good!
Why this recipe
Today I want to share my interpretation of General Tso's Chicken that yields a great taste like the restaurant version, but is more practical for any cook to make in their home kitchen. The greatest things about this recipe are:
You will use much less oil to cook the chicken. No deep-frying required. The chicken will end up super crispy and stay that way, even after it's been tossed in the sauce.
The tangy sauce is well balanced, rich, and sticky. It also uses less sugar than the mainstream recipes out there.
No wok required! You can use a regular skillet to make this dish taste great.
General Tso's Chicken Cooking notes
1. How to make crispy chicken without deep frying
Now here is the trick to creating crispy chicken with a crunchy coating that is like the takeout you'd get from Chinese restaurants, without making a mess.
Simply use the formula: oil + salt + egg + cornstarch
This combination creates a dry batter that is suitable for pan-frying. Normally, deep frying requires at least a few cups of oil. For this recipe, you only need a regular skillet and 1/4 to 1/3 of a cup of oil to pan-fry the chicken. Not only does it yield an extra crispy exterior and juicy, flavorful meat, but the chicken also stays crispy even after you coat it with sauce.
2. Use any cut of chicken you like
Although I always prefer chicken thighs, you can use chicken breast and create awesome results, as well.
Just remember to cut the chicken into 1-inch to 1 and 1/4-inch pieces. The size of the chicken pieces matters because you want the surface to turn crispy with the inside just cooked through at the same time. It doesn't matter if you use breasts or thighs. I've tried both and they both turned out awesome.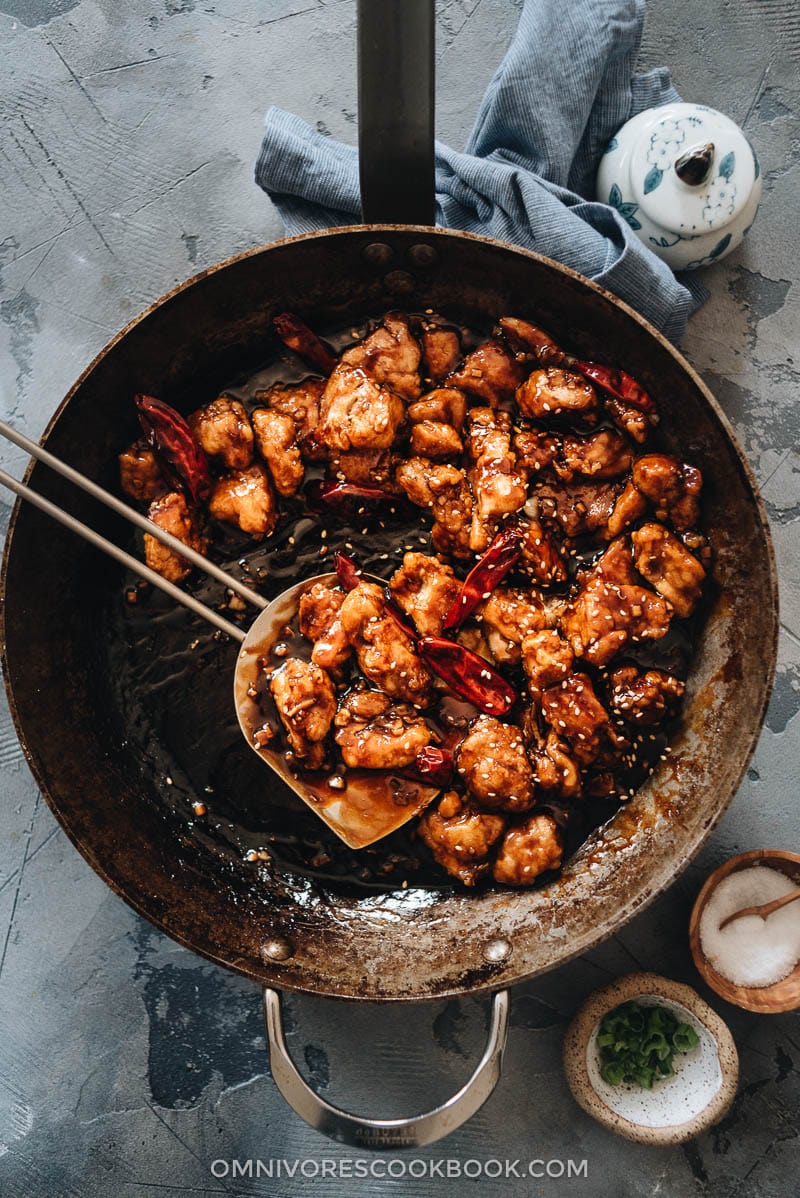 3. Key ingredient
Many General Tso's chicken recipes call for rice vinegar. But if you really want the rich tangy taste like the restaurant version, you should use Chinkiang vinegar instead.
Chinkiang vinegar (Zhenjiang vinegar, 镇江香醋) is a type of Chinese black vinegar. It is made from various grains and is aged until the color turns dark brown or inky black. It has a rich, pungent, and tart flavor, sometimes with a hint of sweetness. It has a fermented malty taste and a woody character that distinguish it from the light-colored and fruity rice vinegar.
These days it's quite easy to find it in an Asian market and even at regular grocery stores. You can also shop for it on Amazon.
4. Workflow
Before you start cooking, your countertop should have:
Marinated chicken that's coated with cornstarch
A bowl of chopped ginger and garlic
Dried chili peppers
Mixed sauce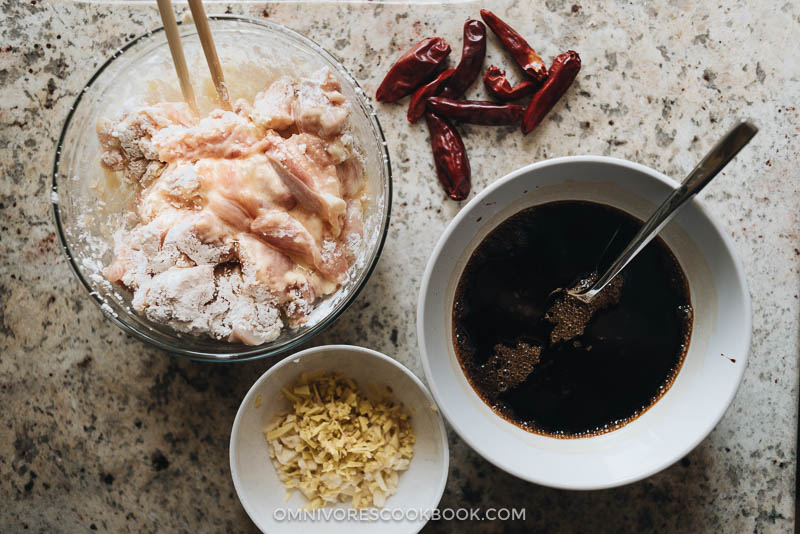 To cook General Tso's chicken, you need to:
Pan-fry the chicken, then transfer the cooked chicken onto a plate.
Saute the aromatics, then add the sauce.
Once the sauce thickens, add back the chicken and toss everything together.
That's it! Sounds super easy doesn't it?
Note, it's very important to remove the chicken from the pan. Letting the chicken cool off a bit before adding it back into the skillet is a crucial step for keeping the coating crispy. Plus, your pan will become very hot after you fry the chicken. I usually remove the pan from the heat for a few seconds before adding the aromatics, so it won't burn the ingredients.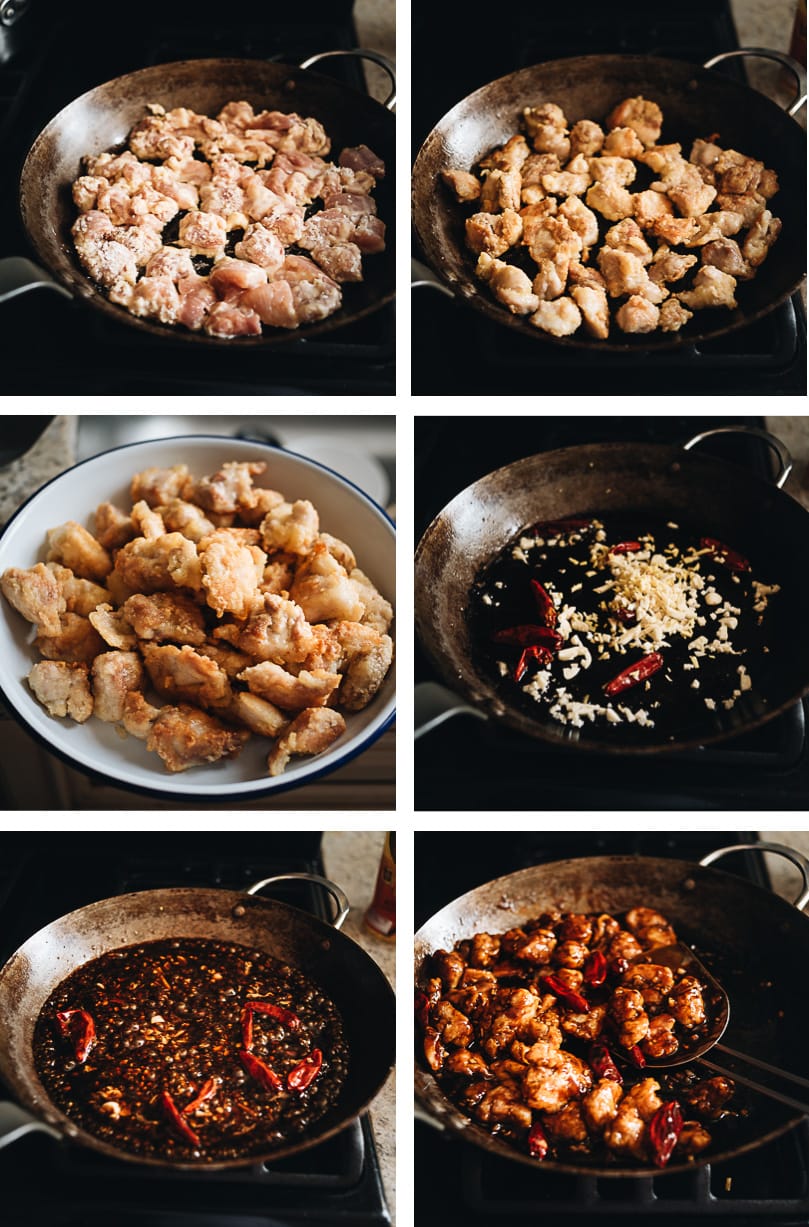 Perfect party food
This General Tso's chicken makes a great party food. The batter holds up really well and the chicken will remain crispy even if you let the dish sit for a while after cooking. If you're hosting a dinner party and have multiple stir-fried dishes, you can make this one in advance and keep it in the oven on low heat until you're ready to serve it.
This dish is so addictive that I can finish one pound of chicken in one sitting. I highly doubt you'll have any leftovers when you cook it. But just in case you do need to heat up the dish, here is a good way. You can preheat your oven to 350 F and spread the chicken onto a baking dish. Once the chicken is heated through, it will be pretty crispy again.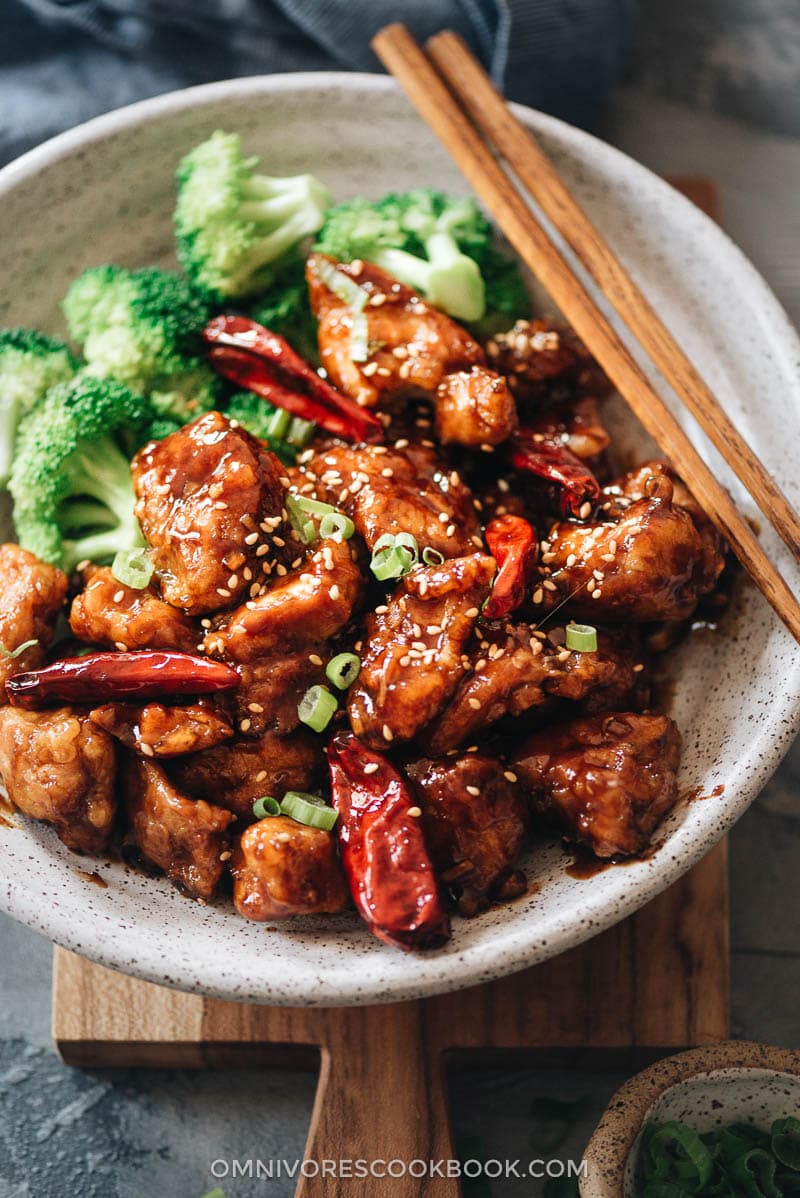 Ingredients
1 pound (450 grams) boneless skinless chicken thighs or breasts , cut into 1″ (2 cm) pieces
1 tablespoon peanut oil (or vegetable oil)
1 egg , beaten
1/2 teaspoon salt
1/2 cup cornstarch
Sauce (or pre-made General Tso's Sauce)
Stir fry
3 tablespoons peanut oil (or vegetable oil)
7 to 8 Chinese chili peppers , dried (*Footnote)
2 teaspoons minced ginger
4 cloves garlic , minced
Instructions
Mix all the sauce ingredients in a small bowl and set it aside.
Combine the chicken pieces, vegetable oil, and salt in a big bowl. Mix well and let it marinate for 10 to 20 minutes.
Add the beaten egg into the bowl with the chicken. Stir to mix well. Add the cornstarch. Stir to coat the chicken until it forms an uneven coating with a little dry cornstarch left unattached.
Heat the stir-fry oil in a heavy-duty skillet until hot, until it just starts to smoke. Add the chicken all at once and spread it out into a single layer in the skillet. Separate the chicken pieces with a pair of tongs or chopsticks.
Cook without touching the chicken for 2 to 3 minutes, or until the bottom turns golden. Flip to brown the other side, 2 to 3 minutes. Transfer the chicken to a big plate and remove the pan from the stove. Let cool for 2 to 3 minutes.
Place the pan back onto the stove and turn to medium heat. You should still have 1 to 2 tablespoons of oil in the pan. Add the dried chili pepper, garlic, and ginger. Cook and stir a few times until it releases its fragrance.
Stir the sauce again to dissolve the cornstarch completely. Pour it into the pan. Stir and cook until it thickens, when you can draw a line on the bottom with a spatula without the sauce running back immediately.
Add back the chicken pieces. Stir to coat the chicken with sauce, 30 seconds. Transfer everything to a plate immediately.
Serve hot as main over steamed rice with blanched broccoli.
Notes
You can use dried Chinese or Korean chili peppers in the dish. They add aroma to the sauce but don't really add spiciness. If you want the sauce to be spicy, you should cut the peppers in half to release the seeds. Or you can add a small pinch of cayenne pepper to the sauce mixture.
Nutrition
Serving: 4g, Calories: 411kcal, Carbohydrates: 29.5g, Protein: 25.2g, Fat: 20.6g, Saturated Fat: 4.3g, Cholesterol: 112mg, Sodium: 891mg, Potassium: 251mg, Fiber: 0.4g, Sugar: 12.8g, Calcium: 27mg, Iron: 2mg
(Visited 820 times, 1 visits today)